Continental Series


20 - 80' CONTINENTAL SERIES - ESR
External Single Revolving - Rope Halyard

The Continental Series from Concord American Flagpole combines heavy-duty aluminum flagpoles in 20' to 80' mounting heights with the highest quality hardware available to the industry today. These flagpoles meet the most stringent architectural standards and are certain to enhance the landscape of any business or industrial property.
Lifetime WarrantyConcord American Flagpole warrants its aluminum flagpole shafts for their LIFETIME.
Standard Components
• Patented, Heavy-Duty Gold Anodized Aluminum Ball
• Cast Aluminum Revolving Truck with Dual Stainless Steel Bearing Assemblies, Aluminum Pulley and Aluminum Spindle
• Complete External Halyard Assembly
- Rope Halyard - 5/16" #10 Polyester
- Two (2) Solid Brass Swivel Flagsnaps
- Two (2) Neoprene Flagsnap Covers
• 9" Cast Aluminum Cleat
• Spun Aluminum FC-11 Flash Collar
• Galvanized 16-Gauge Corrugated Steel Ground Sleeve with Steel Grounding Spike

Standard Upgrades – 10" and 12" Butt Diameters
• Heavy-Duty Truck with Dual SEALED Bearing Assemblies
• Rope Halyard - Heavy-Duty 3/8" #12 Polyester
• Two (2) Heavy-Duty Brass Flagsnaps with Covers
• Heavy-Duty 5/8" Ball Stem
• Heavy-Duty Cast Aluminum Collar
Available Flagpole Colors:
In addition to the standard colors listed for each flagpole, we offer a wide variety of other colors. Click Here to see other available color choices.
Optional Mounting:
Estate flagpoles with a base diameter of 4" or 5" can be ordered with a Shoe Base mounting for an additional $200. Each Shoe Base pole comes with 4 galvanized anchor bolts, washers and nuts.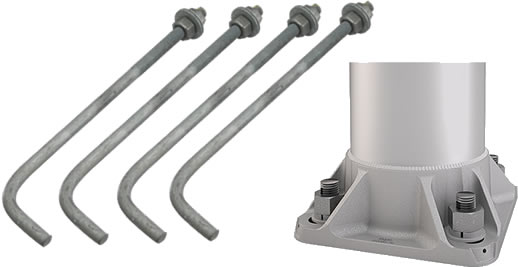 Optional Components/Upgrades:
If you wish to modify this flagpole with other features like a double pulley revolving truck assembly, eagle, different ball finial, etc. Please call us to discuss this. Some changes will have no additional charge but others might. We will work with you on any changes to the standard pole you wish to make.
Lifetime Warranty
Concord American Flagpole warrants its aluminum flagpole shafts for their LIFETIME. Click Here for details