Product Description
Concord American Xtreme XIRW Flag Pole Series – Flush Reinforced Door Frame
Internal With Winch – Wire Halyard

The Xtreme Reinforced Series flagpoles from Concord American Flagpole is the perfect option for coastal hurricane prone areas where your job calls for a commercial grade flagpole with a heavy-duty internal halyard winch and wire cable system. Concord Xtreme XIRW flag poles come in heights of 20′ thru 60′. The reinforced welded door frame of the independence flagpole delivers superior strength, combining security with superior lockable flush mount door. Xtreme XIRW Flagpoles are engineered with an inset reinforced aluminum door frame welded into the precision cut door opening. The efficiency of this design produces maximum strength-to-size ratios while providing a smooth, flush fitting door, making Xtreme XIRW flagpoles the ideal choice.
Lifetime Warranty
Concord American Flagpole warrants its aluminum flagpole shafts for their LIFETIME.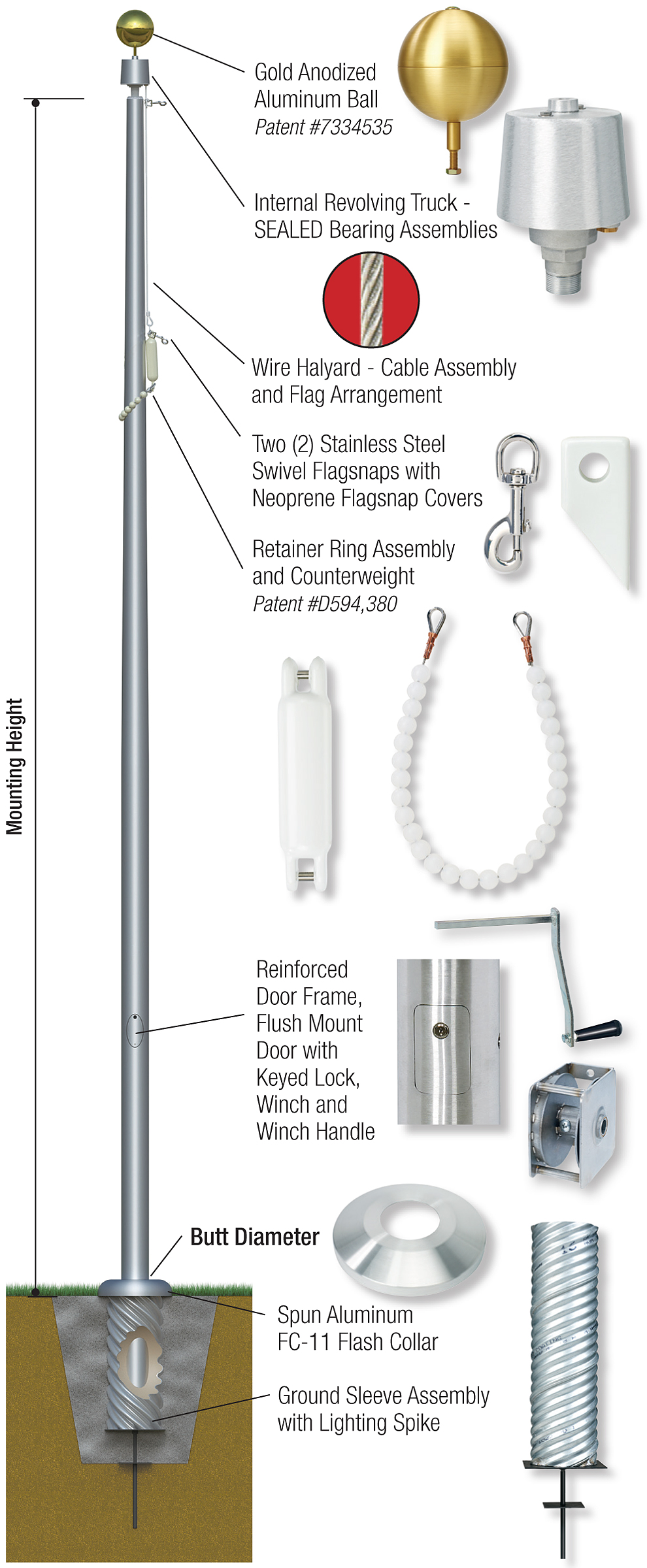 Standard Components
• Patented, Heavy-Duty Gold Anodized Aluminum Ball
• Cast Aluminum Revolving Truck with Dual SEALED Stainless Steel Bearing Assemblies, Aluminum Spindle, Cast Brass Exit Bushing and Removable Hood
• Complete Internal Halyard Assembly
– Wire Halyard Cable Assembly
– Flag Arrangement (8′ x 12′ and Larger Flags Include Heavy-Duty Shock Spring Assembly)
– Two (2) Stainless Steel Swivel Flagsnaps
– Two (2) Neoprene Flagsnap Covers
– Patented, Plastic Coated Counterweight
– Beaded Retainer Ring Assembly
• Stainless Steel Winch Assembly with Removable Hand Crank
• Flush Reinforced Door Frame with Lock and Keys
• Spun Aluminum FC-11 Flash Collar
• Galvanized 16-Gauge Corrugated Steel Ground Sleeve with Steel Grounding Spike
Click Image to View
Specifications and Pricing
Product Videos
Custom Field
Product Reviews
You May Also Like...